What to look for in commercial security solutions
by Daniel Hardwick
---
Posted on 2020-02-14 07:10:25
---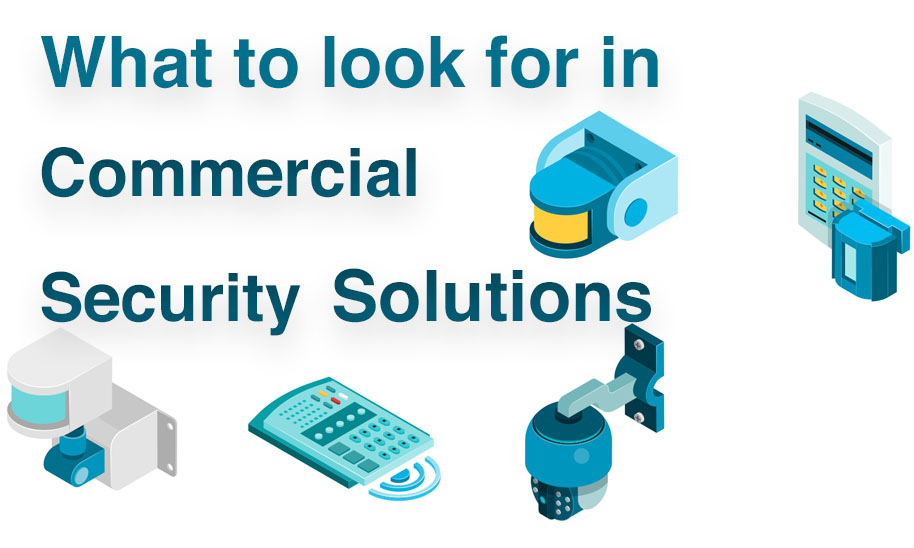 ---
Installing a security system or some sort of security solution for your business not only gives you greater peace of mind but protects your business and provides a safer working environment for you and your employees.
We've seen small to medium-sized businesses with little security needs get away with basic video surveillance systems and decent locks on the doors, however, there's more to protecting your business than just putting commercial locks on your doorknobs and installing a few security cameras.
The best security solutions for businesses of any size are the ones that provide secure services like video surveillance cameras, security alarm systems with alarm monitoring, access control (different levels of access control) and more. 
Although it sounds like a lot, these systems don't have to be expensive and we can even custom build a security solution to fit your needs, based on your size, location(s), concerns, etc.
We offer commercial security solutions that encompass a range of features that perform one or several of these functions:
Video surveillance
Access control
Specialty door hardware to arm and protect your building
Remote alert status for office/building management
Safe and vault installation and management
And more!
Here's what to look for in a commercial security system…
---
Whether your system does one or all of the functions described above, make sure the product that performs these functions is sized according to the number of sensors you need to control, and that it monitors all the key points necessary to protect your business.
If you feel your security needs are limited, there are many national alarm and security companies, as well as local companies that are either manufacturer distributors or reps that can install a product line for you. If you do this, you'll want to make sure you're using a licensed vendor trained by the manufacturers of the products they carry, so you have confidence in the installation and ongoing maintenance if needed.
 
Many leading manufacturers of commercial security systems include:
2GIG Technologies
ADT
Kisi
Bosch
GE Security
DSC
Honeywell
Siemens
STI
Tyco
Visonic
Technology trends to looks for in your commercial security system
There are varying levels of technology, prices, trends and things to look for in a commercial security solution. But here are a few things we recommend…
Mobile-Enabled Technology
---
Smartphones and tablets are a standard business tool, so your security system needs to connect, send and receive status updates from these as well as through a website's portal that's accessible through a secure internet or cellular connection. With today's technology, it's not unusual to be able to lock and unlock doors from your phone, set or disarm the systems or doors, or even manage and update permissions of individual users remotely.
Our Isonas Pure IP Access Control takes the convenience of your smartphone to the next level, with Pure IP Mobile Credentials. So, what does this mean for you? For one, you can easily connect and manage all your properties with one user interface when using the Isonas Pure Access Cloud Software. You can also get email notifications of events and real-time updates.
High Definition (HD) Surveillance Video
---
Don't settle for video surveillance that's grainy and blurry. Today, high-megapixel cameras can provide you with high-definition quality video that highlights fine details, lets you zoom in and out and can allow frame-by-frame playback.
We now partner with ICR to sell, install and service ELLA, a cloud-based deep learning solution that augments surveillance cameras with natural language search capabilities. Ella is revolutionizing the video search functionality for the entire industry. Check out the video below or contact us for a free demo.
Video Notifications
---
Video security solutions can now even send video clips and updates via email, text, etc. so you can see for yourself if you should contact emergency personnel before it's too late. There are less false alarms and more premise security during the day and night, and all around the facility and grounds.
No matter how advanced, large or small-scale your commercial security solution is, just remember a few things before you purchase one:
You will want to make sure all key personnel (managers, advisors, building administrators, etc.) know how to use the security solution and are comfortable with its operations. Consider offering a quick training to go over the new system with those who will be using it. We can do this if you are interested!
Traditional alarm systems may use standard telephone wiring to transmit alerts, which would be down during an emergency. Consider using a system with cellular backup.
A wireless system may eliminate having to route new cables and wires through the walls, saving you money in the long run!
Reduce the cost and make your system last longer by maintaining regular system updates, routine maintenance, etc. At AKL, we help our clients maintain up-to-date commercial security solutions to protect them physically and against cyber intrusions.
Are you ready to learn more about our top-performing commercial security systems? Contact us today for a free quote!
---