Sanitizing Door Hardware & Touchless Options for Your Business
by Daniel Hardwick
---
Posted on 2020-04-30 07:11:43
---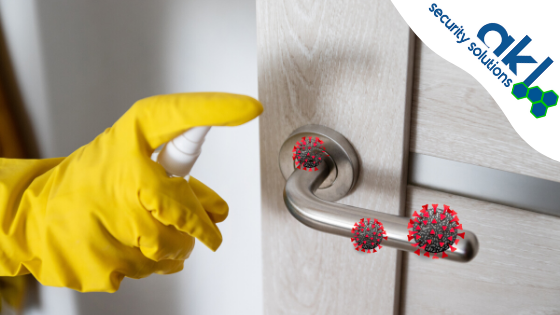 ---
Cleanliness in the workplace is a top priority for businesses nationwide. In light of the worldwide COVID-19 pandemic, sanitizing and using disinfectants on door hardware is one of the most important things we can do to stop the spread, especially as people begin returning to work and customers and clients begin coming through your doors again.
According to guidelines from the CDC, businesses should clean and disinfect frequently touched surfaces daily. This includes tables, doorknobs, light switches, countertops, handles, desks, phones, keyboards, toilets, faucets and sinks.
They recommend using soap and water prior to disinfecting if surfaces are dirty, and common EPA registered household disinfectants (such as Clorox/Lysol wipes) will work.
Best practices for cleaning door hardware
The doors in your building keep people in and out. And they can do the same for this virus. Door handles and hardware are some of the most touches surfaces in your building and should be disinfected regularly since they are touched by every single person entering. We recommend wiping down door handles, pull handles, knobs and levers, as well as the entire door between 34" and 48" high with Clorox wipes or even rubbing alcohol.
Long term disinfectant solutions
There is no telling when or if the spread of this virus will stop. Long term disinfectant solutions that can help with the spread of COVID, as well as other viruses, could include installing hardware with antimicrobial coated surfaces, or going touchless altogether.
Antimicrobial coated surfaces
Many of our products from Allegion are available with an antimicrobial coating, which is specifically formulated to inhibit the growth of bacteria by interrupting cell multiplication. 
COVID-19 falls into the virus class of infection diseases, so while these coatings are not proven to prevent it from spreading, they do use silver ions as an active ingredient. Silver ions are proven to be effective on inhibiting growth of bacteria, mold and mildew.
Touchless door hardware
We know from our social distancing experiences, the best way to decrease the number of people infected is decrease contact with the virus or with surfaces that are contaminated. Contact transmission either direct or indirect can spread disease, and studies show viruses can survive on metal, glass and plastic for as long as nine days, unless they are properly disinfected.
An easy way to decrease contaminated hardware is to install touchless door hardware. This reduces contact transmission by decreasing the number of surfaces your people come in contact with, thereby decreasing exposure.
While there are several ways to accomplish touchless operation, pairing low energy automatic operators with actuators or readers is one of the most common.
Other touchless product options include:
Auto operators.

For applications where most pedestrians operate the door electronically –  Allegion offers electromechanical automatic operators that utilize a motor gearbox and control box to perform the opening and closing function.
For applications where most pedestrians operate the door manually – LCN offers low energy electrohydraulic and pneumatic automatic operators that feature a heavy duty closer with a slow opening function.

No touch actuation. No touch actuators can be installed in place of push buttons and comply with ANSI 156.19 low energy standards.
Motion sensors. Allegion offers a motion sensor actuator packaged with ANSI 156.10 sensors. These sensors, typically used for high energy applications, are applicable here because motion actuation does not qualify as a "knowing act", therefore, these safety sensors are needed. We also recommend the Locknetics WS-200-MB motion sensor.
Transmitters and receivers. Transmitters can be programmed to actuate an auto operator. FOBs are commonly used for accessibility and are another contactless way to actuate an automatic operator.
Access Control Systems. Schlage multi-technology readers can be used as part of an access control system to actuate an auto-operators for authorized individuals. These readers recognize proximity, Schlage smart card, Schlage Mobile Credentials and NFC-enabled smart technology. Simply present a valid credential, such as a phone or smart card, and gain entry without making contact with the reader or door. Check out our other access control systems here.
Exit devices. Energy efficient electrified options, such as Von Duprin QEL and Falcon MEL, electronically retract the latch bolt upon signal from the access control system and can be paired with auto operators for touchless applications.
Foot pulls. Foot pulls, such as the Don Jo 46-630 can be easily installed to doors giving people the option to open the door with their foot instead of their hand.
For more information, or to learn more about our antimicrobial and touchless products, call or contact us today!
We are taking extra precautions for all of our customers at this time including wiping down all doors and hardware on a job before and after installation or repairs, as well as any doors between our immediate work area and van.
---